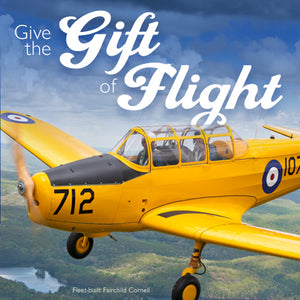 Fairchild Cornell MKII Flight
Member Price/Prix Membres:
10 minutes - $130 (includes $35 Tax Receipt/Un reçu fiscal d'une valeur de 35$)
20 minutes - $200 (includes $50 Tax Receipt/Un reçu fiscal d'une valeur de 50$)

Non-Member Price/Prix Non-Membres:
10 minutes - $170 (includes $50 Tax Receipt/Un reçu fiscal d'une valeur de 50$)
20 minutes - $250 (includes $75 Tax Receipt/Un reçu fiscal d'une valeur de 75$)
**All prices are taxes included/taxes incluses
Flight Duration/Durée du vol: 10/20 minutes.
Maximum Weight/Poids maximum: 300 lbs.
For general flight requirements and information check out the Aircraft Flights page.
Pour les renseignements généraux et les exigences de vol, consultez la page Aircraft Flights.
Aircraft History

As the Second World War advanced, the RCAF needed a more advanced trainer for the BCATP. The existing DH 82C Tiger Moths and Fleet 16B's used for elementary flying training proved to be a significant step down from contemporary service aircraft. In the spring of 1941, the RCAF therefore decided on a development of the Fairchild Aircraft (US) Company's PT-19 trainer design. The RCAF version was to feature an enclosed cockpit, an improved heating system, equipment changes along with a Ranger piston engine. This modified version was to be known as the Fairchild Cornell in Canada and it rapidly entered production and found favour at elementary flying schools beginning in 1943.
Historique de l'avion
Pendant que la Seconde Guerre mondiale s'amplifiait, l'ARC avait besoin d'un avion d'entraînement plus avancé pour le PEACB. Les DH 82C Tiger Moth et Fleet 16B utilisés pour la formation de vol préliminaire s'avéraient un trop grand pas en arrière en comparaison avec les avions contemporains. Au printemps 1941, l'ARC a donc choisi un modèle basé sur une évolution de l'avion d 'entraînement PT-19 de la société Fairchild Aircraft (US). La version pour l'ARC allait disposer d'un cockpit fermé, un système de chauffage amélioré, des changements d'équipement ainsi qu'un moteur à piston Ranger. Cette version modifiée qui allait être connue sous le nom de Fairchild Cornell au Canada est rapidement entrée en production et fut fortement privilégiée dans les écoles élémentaires de vol à compter de 1943.
---
More from this collection